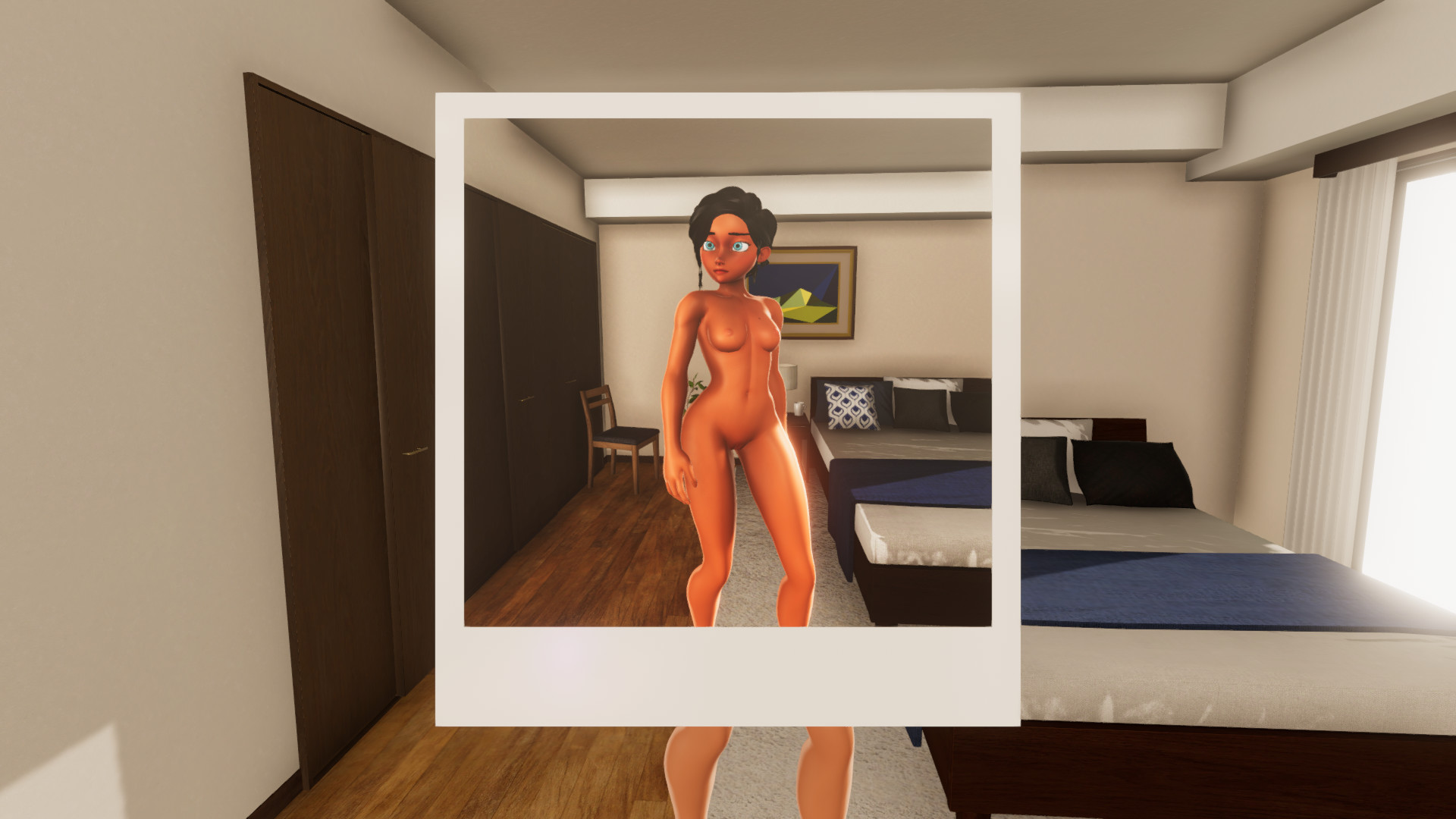 Elise's Peepshow is a VR porn game to come out of Japan. Combining elements of voyeurism, POV, and picture-taking, Elise's Peepshow is an ambitious game. It's Developed by FriskyBishop, who's well known within the adult VR game industry.
Story
Players will find themselves taking the role of a photographer, who's been hired to take lewd photos of Elise. She also happens to be a closeted exhibitionist. You'll start the game and find she needs to take a shower before you can start.
This is where the first instance of previously mentioned voyeurism starts. If you're lucky, you'll be able to catch a glimpse of her cleaning her body.
From here, you'll have a kind of awkward scene transition into you taking pictures of her. Feel free to take your time, though there doesn't seem to be any reward for the number of pictures you take.
Afterward, she'll invite you to eat dinner with her, where Elise will then confess that she's into voyeurism. She can only get off if someone's watching her have sex, and offers you to join her.
Players will choose from one of three options, which ends promptly once they're done – taking you back to the beginning of the game.
It would be nice to see longer gameplay or more options when it comes to these scenes with Elise – maybe exploring her exhibitionist nature in other ways.
Gameplay
The options mentioned above include: having sex with her, watching her have sex with someone else, or her streaming herself over the internet.
Sex feels fluid and natural, although there doesn't seem to be a way for the player to interact directly with Elise with VR controllers. It can often feel like you're watching a POV porn video rather than playing a game itself. Either watching yourself having sex, or floating around the voyeurism scenes.
There's also a range of short POV videos that players can watch from the menu of the game – or from the TV at her house. It's a nice feature and allows you to watch some videos to break up the more direct sexual experiences.
While the gameplay feels a bit short, it's worth the time to play through the different scenarios, especially if voyeurism is something the player is into. It's a genre that's not often explored, and EliseVR does it right.
Graphics
Elise's Peepshow is one of those games that takes an anime-like approach. It works well and allows for her body to really shine, feeling more along the lines of a VR hentai game. 
Elise looks great, with a nice body and semi-realistic proportions, which helps when it comes to watching her have sex. The graphics feel just realistic enough for players to get immersed in the scene.
It would've been nice to see her have a little more physics and facial reactions. It can be a bit jarring during the sex scenes. Also, the player's in-game body seems lower quality, a small detail that doesn't detract, however.
VR Support
Transitioning from desktop to VR is pretty seamless, though it would be nice to see some more VR-specific interactions. There didn't seem to be extra features or controller options when it came to experiencing sex with Elise in a more interactive way, which was disappointing, but hopefully something the developer will add in the future.
However, this doesn't mean that the sex scenes in VR aren't immersive – as the different scenes are set up nicely and feel realistic. The player can really feel like they're spying on Elise as she takes a shower or when she's having sex with another character.
The VR in the game adds more than it takes away, and is the recommended way to experience this VR sex game, making the experience that much better.
Sound
The voice actress for the game is fantastic, really selling the scenes and making players feel like their actions are effective.
This also continues into the separate POV videos mentioned previously, which all have realistic sex sounds and voice actresses.
Overall
Elise's Peepshow is one of the few games on the market that does voyeurism right and shines in that regard. It's clear this is something the developer is passionate about and reflects in the realistic gameplay. 
It would be nice if the game was a bit longer, as the three scenarios are short. It would also be great to be able to interact more with Elise within the scenes themselves.
The sex scenes still feel realistic enough that it's easy to dismiss those as small features. They, thankfully, aren't integral to the game itself.
It'll be nice to see where the developer improves this VR sex game. But even then, it's something everyone should try and experience at least once.
Who knows, maybe players will discover something about their own interests after playing.
You can buy Elise's Peepshow here