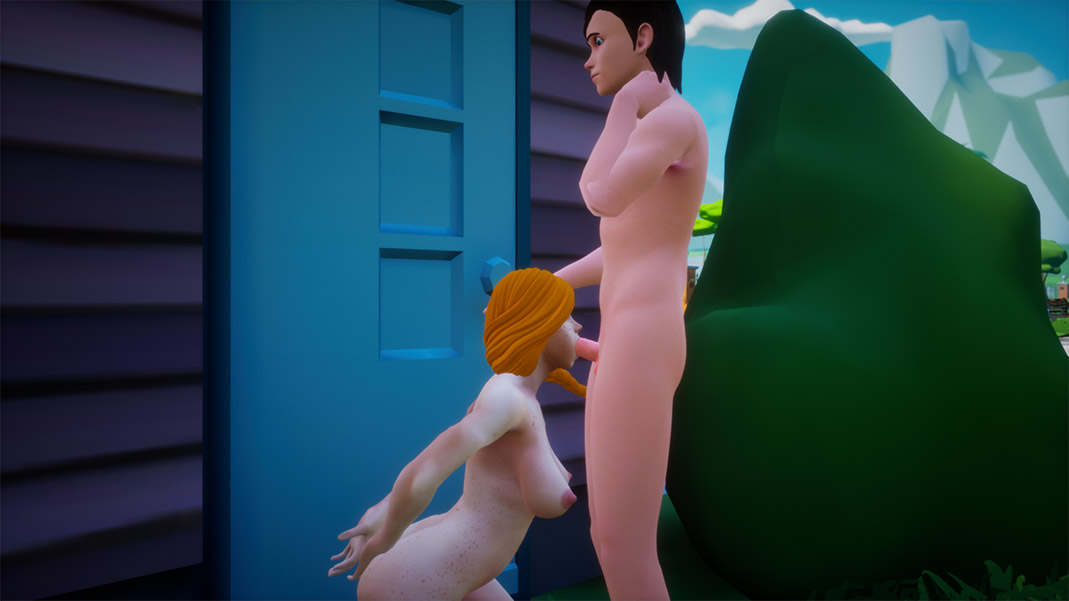 Monolith Bay is one of the newest open world porn games that's quickly gaining traction on Patreon.
Developed by Team Monolith, this lewd game promises meaningful stories, engaging sex scenes and more in this pseudo adventure/dating sim.
Story
Monolith Bay opens on a scene of a galaxy – a distant voice calling out to you. But before you can respond, the main character wakes up, and players find themselves on a bus heading to Monolith Bay. The main character and his sister exchange some dialogue, and discover that you've come to Monolith Bay to learn about your parents' disappearance.
After a bit of story, the player is given a quest to go to the University. This is where the game truly starts, and when one may discover that Monolith Bay itself has a strange past.
Players will meet a slew of interesting characters, from the university chancellor who has an affinity for girls' skirts, to the literal sex class and the students who attend.
And with these interesting characters comes their story lines, each requiring you to obtain items or talk to them on certain days to progress. The writing of these can be a little hit or miss – there's a good amount of spelling and grammar errors, but it doesn't take away from the character's story.
The girls also each have unique designs, but it would be nice to see more variety in terms of their personalities. Having them fleshed out a bit further would help push this game to be one of the best porn dating sims available.
Graphics
Monolith Bay is still in early development, and its semi-realistic graphics are gorgeous at times, if not a little buggy. Players will be taken aback just exploring the world – as each location seems to have personality, just like the characters themselves.
Night time especially oozes with design. Even taking a long trek through the mountain was enjoyable thanks to the beautiful setting, filled with lightning bugs, and a beautiful pond.
Aside from the environment, the characters themselves seem to be the biggest hitch in terms of bugs. Clothing will sometimes clip through body parts or players may find a girl's hair is missing entirely.
They're small issues that will hopefully be fixed in the future – but a drawback of playing something this early in development.
Sex
The sex scenes really stand out in this game, and while they're short one-offs, one can tell that this is where the development team focused a lot of their time. From the subtle physics in the girl's bodies, to the sound design in each scene, they're some of the best looking and sounding scenes currently out there.
The positions are realistic, and so far it seems players can choose from three in the sandbox mode – blowjob, doggy and standing.
Each includes realistic sounds, the blowjobs even include gagging, something you don't see in these types of games.
Gameplay
Completing tasks for others, going on dates with girls and more seem to be the main focus of this game.
However, there may be times when one may feel like there's not much progressing. It feels like it takes quite a while for anything substantial to happen at the beginning – specifically relating to the girls.
It can be easy to forget you're playing a porn game when it takes a few days to get settled in, and from there, it slowly introduces the girls to you. Ultimately, this gives players a sense of satisfaction when you finally rank up enough with a girl to have sex with her, but it can take awhile.
But, while you're waiting to rank up with another girl, there's plenty to experience in Monolith Bay. From side-quests from your friends, delivering pizza, and more, it's amazing that the developers have included so much content aside from the relationship building aspect.
Overall
Monolith Bay is a game players will have a blast experiencing, from the unique characters, to the engaging story involving the disappearance of your parents, one may find themselves forgetting why they played this game to begin with – the porn.
And the porn itself is great, with realistic sounds and animations, it could stand alone as its own game. But, it comes packaged alongside beautiful scenes and enjoyable characters, some whose personalities shine in the spotlight.
And while it would be nice to see a refinement of the dialogue, mainly spelling/grammar errors, it doesn't take away from the overall game.
Considering this game is in early development, it'll be exciting to see where this game goes, as they've been actively updating their Patreon. However, even with that, Monolith Bay is a game everyone should try for themselves – you won't be disappointed.
You can purchase Monolith Bay here
VR
The current adult VR game build is a nice addition, and seems to be based around the sandbox mode, players are able to choose from any of the current cast. From there, you can choose from the same three positions mentioned above: doggy, standing, or a blowjob.
Players can also grab the girl's breasts, and move around the scene as they please. It makes everything feel realistic, and it's also one of the few VR sex games that allows players to directly interact with the girls.
This VR porn game mode is a small part of a bigger whole, and it'll be interesting to see where the developers take this while working on the main game.