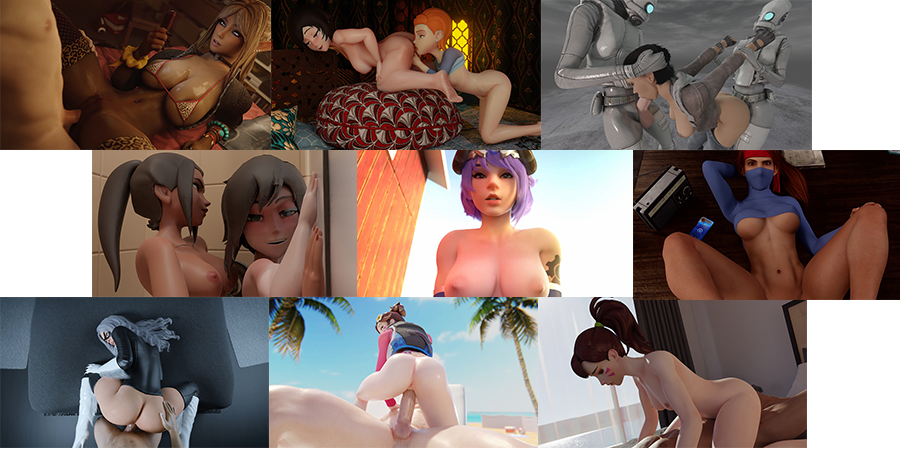 When it comes to VR porn videos, a vast variety is offered, for every taste. Whether you're a fan of messy cumshots, or craving for huge breasts, animated vr porn has you covered.
With VR animated sex videos, every fantasy can be satisfied thanks to the limitless possibilities offered by the imagination of talented animators and artists. From colorful hentai to slick and sweet cartoons, no fantasy is left aside!
Here are some of the best animated, hentai, and cartoon VR porn you can watch today, for free.
Futa Blowjob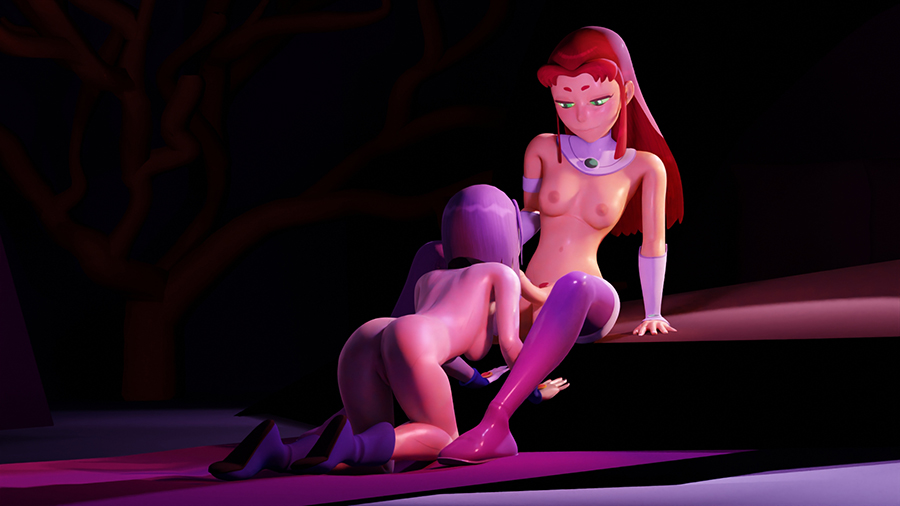 What does Starfire want to accomplish with her brand new dick? Getting sucked by Raven of course!
Produced by VRAnimeTed and animated by TheNaySayer34, this voyeur cartoon VR scene is sure to give you pleasant dreams.
Once Raven gets on her knees, she just can't stop moving back and forth, pushing Starfire's futa cock in her throat until satisfaction!
Dystopian Gangbang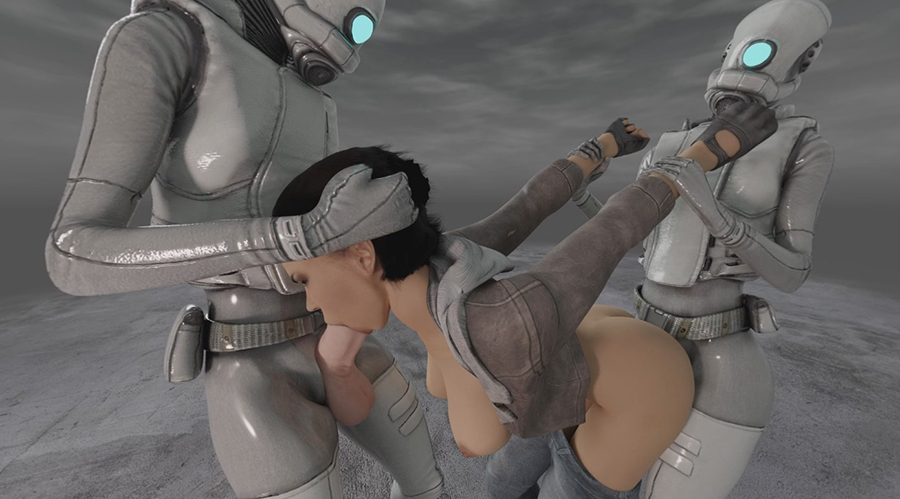 Alyx Vance from Half-Life 2 gets splitroasted in this VR sex scene created by Likkez.
Fucked from both sides by humanoid aliens, she gets totally dominated by their huge cocks, and one of them is even a female! While she gets her head grabbed to blow, her arms are held from behind with her pants down, forcing her to just let them do what they came for: dominate her fit body.
Was she really forced? This will remain a slutty mystery …
Your Elf GF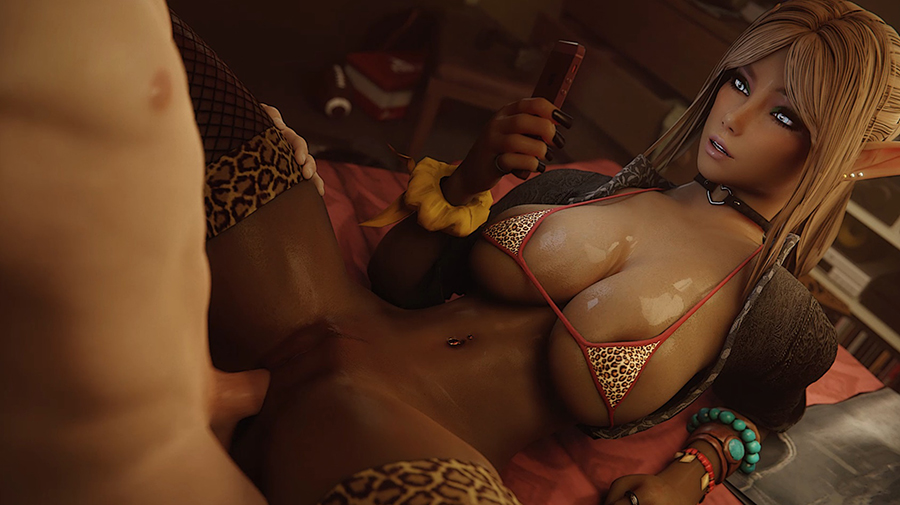 Who doesn't dream of having a sexy Elf girlfriend? Not you, of course!
Animated by Luriam at DarkDream, this VR animated porn video will bring your dream to reality with this original Elf character, laying in your bed waiting for some hot action.
Modeled by Kiske and voiced by Cottontail, get ready to be hypnotized by her big bouncing rack as you strive back and forth, in and out, of her warm and wet Elf pussy.
Enough said, time for you to discover how it feels to share a good time with an Elf lady!
Ninja Baby

Every Final Fantasy fan will be pleased to have the chance of a lifetime, to jump into the action with Jessie, in this delightful VR video delivered by DarkDreams and animated by Bewys.
Dressed with an extremely revealing outfit, she's ready for you to grab her to start fucking in missionary position, on the table while showing off her fit body. She was trained for these moments!
So who are you? You are Cloud Strife, ready to make her eyes roll up thanks to your big secret weapon!
Thicc Bitch

Coming from the Marvel universe, it's time for you to have a tasty look at Felicity!
This silver fox is delivered to you by DarkDream with only one purpose: fucking her intensively from behind while you grab her bouncing ass.
Dressed in leather, you will find yourself lucky to see that the only part uncovered is her ass and thighs, it's like she was made for getting fucked doggy style!
Small Titty Teen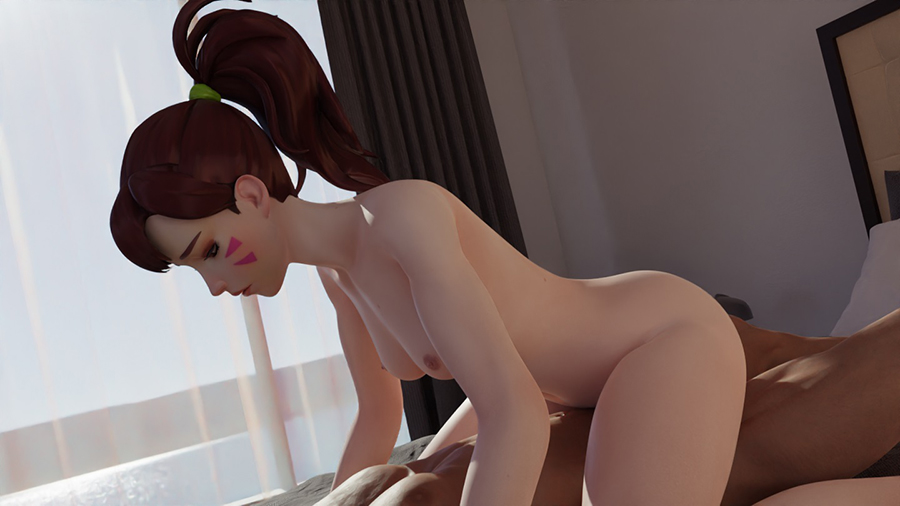 Thanks to RapidBananaCannon, you now have the possibility to experience getting ridden by the small tit's nympho D.Va from the Overwatch universe, in this heated VR cartoon sex video.
Being completely naked, she doesn't waste time jumping on your shaft and riding you like there's no tomorrow.
But don't be fooled by her shy little face, she IS thirsty for sex .. hips don't lie!
Busty Farm Girl

Here's another delicious Overwatch scene to satisfy every gamer's fantasy, in some cowgirl riding action with Brigitte from the Overwatch game. This dream comes true thanks to ViceR34.
Covered with her "goat" outfit and riding you like crazy, it's easy to fall in love with her giggly busty breasts and swirling hips. As a cowboy, it's your time to lay back and enjoy the sun, while this sexy purple hair babe rubs her pussy on your shaft.
This summer, the sun will shine behind the farm, so make sure to enjoy her sexy fit body until your very last drop while the heat is at its top!
Lesbian Fun

VRAnimeTed is bringing to you a passionate scene between two lesbian friends in this snatch fingering and ass-licking, anime VR porn video.
Gwen and Ruby are doing what they do best together to please any voyeurs who stumble into their room. Ruby loves getting her cute pussy played with, while being bent over. But Gwen cannot resist the temptation when she receives Ruby's butt in her face, as a result, she starts licking her tight ass hole.
Feeling voyeur? Check them out while they're hot!
RWBY Shower Sex

Here's another cool hentai VR video from VRAnimeTed, for voyeurs. Animated by TheNaySayer34, this time the action is taking place in the mist of a shower.
Nothing says 'i love you' better than a strapon dildo session, well, when you're a lesbian of course!
Enjoy the view while Azula tries her new belted toy on her sweet Ruby, while she's pushed against the glass, making her bound to get fucked with no escape.
Tight Litlle Botty

Can't get enough of D.Va ? No problem! Here's another very hot scene that will bring a sweat to every Overwatch fan out there. This anime VR scene is produced by Cawneil.
Enjoy a crotch view while D.Va rides this lucky dude's big stick, and by ride, I mean "going crazy on the pogo stick" !
Without pants, she only has one option in mind: twerking her butt and filling her pussy with the meat she needs.
She is definitely enjoying her time at the beach, contributing to a heatwave everyone can feel!
Final words
If you like animated, hentai, and cartoon VR porn, make sure to check out the VR video section for a ton of exciting scenes waiting for you to discover, for free!
Nobody's getting left behind thanks to the multiple categories to choose from.
Browse, have fun, repeat!
-article by puss2puss