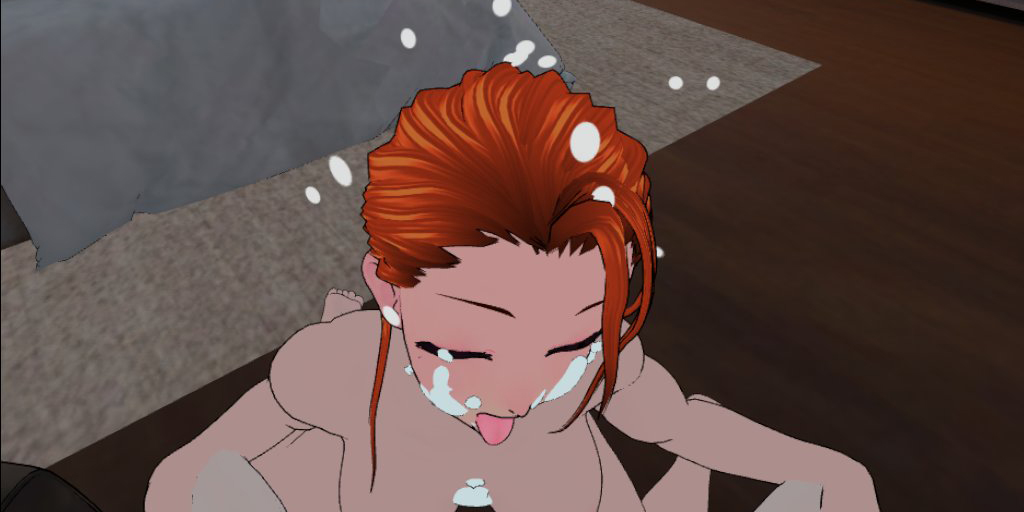 Overview
Super Hentai Sexy Fun Time is a VR porn game developed by the adult video game developer Baldhamstergames, and aims to give players a vast choice of customization, ranging from her hairstyle, to her belly size.
The game features sexy voice acting that helps immerse you in the experience. Although there are a limited number of expressions the multiple sex positions keep things fresh.
Players cannot move around the room, or interact with anything other than the girl's breast and butt so the game is best described as an interactive visual novel of sorts.
This sexy VR game has a lot of excitement to offer and is definitely worth checking out, especially if you like VR hentai games, and bukkake. (this VR porn game contain bucket loads of cum, but you can avoid it if you want)
With practically no bugs or issues and good quality graphics, it's easy to relax and enjoy your time in Super Hentai Sexy Fun Time!

Control & Menus
This is one of those VR sex games that will not frustrate you while playing, since the gameplay is pretty smooth, thanks to the controls being done by the motion controllers, instead of hand tracking.
We can all agree that VR porn games are more immersive when hand tracking control is available, but let's face it: hand tracking is not stable enough yet to have smooth and stable gameplay.
The menus are pretty straight-forward and simple to get access to and navigate, which is a huge plus knowing that with porn VR games, you don't want to have a hard time when having a hard-on, choosing options and changing positions, being right in the middle of an exciting path.

The only negative point with the current control scheme, is how we choose options. To navigate the interactive menu as well as the customization menu, you need to point with the headset, and click with the controller.
An option to switch the pointer with the controller's joysticks would be very appreciated by horny players who want to keep their eyes on the scene while changing position.
That being said, overall, the controls and menu navigating feel smooth and accurate, even with the "point with headset, click with controller" control scheme.
IMPORTANT: Keep in mind that you cannot move around in the room or interact with anything other than moving her breast or butt with your hands. But thanks to the nice visual and smooth gameplay, not being able to move around will not discourage you from playing the game.
Customize your naughty girl, then sit back and enjoy fucking her in multiple positions.

Customization
Super Hentai Sexy Fun Time offers a lot of character customization. Create your dream hentai babe, whether you want her to look pregnant, or super slim, Baldhamstergames got you covered!
Players can tweak a lot of her physical traits, like the breast & nipples size and length, her belly & ass size, as well as her legs & arms shape.

You also have a lot of hairstyles to choose from, which comes in multiple different colors, same goes for her eyes color. Unfortunately, her eyes color is the only customization option for her face.

Graphic & environment
Well, as the title of the game suggests, it is a VR hentai game. The developer Baldhamstergames has balanced the colors pretty well, without being too much colorful and without sacrificing the eyes-candy visual found in the hentai style.
Unfortunately, the environment is restricted to only one scene, a bedroom.
Fortunately, though the bedroom environment is of good quality, being nice and easy to look at, without any 'flashy bright' colors.
It may only be one scene, but with the multiple position choices, you can have a good time, every time. You can have sex on the floor, on the bed, or the chair, depending on the position you choose.

Physics & Interactions
There's not a lot of things you can do with your hands (in-game, of course). You cannot grab her head or move her with your hands in any way but the physics of her breast and ass responds to your hands.

The physic movements may not be perfect, but it is very well-done and will actually move in a "somehow" realistic way. With your hands (with the help from motion controllers) you can actually move her boobs in any direction, the same goes for her butt cheeks.
Cum
Did I mention cum? .. this is a VR porn game filled with cum!
With a press of a button, you can cum on her face, in her mouth, in her pussy and ass, on her boobs .. your choice!

It even gets better: you can leave the sperm on her!
Of course, players still have the option to clean her (you can't actually clean her, it's an option to remove all the cum on her), but if you don't, the sperm will stay on her body & face, until chosen to clean her. Have a fun time fucking her while she's covered in cum. (You can make her quirt too!)
Perfect for bukkake and cum lovers.

Overall
Super Hentai Sexy Fun Time is a good-quality small VR sex game, with smooth and simple gameplay, easy to enjoy during a wanking session.
It's not the kind of game to have a lot of scene options since its only one room, but as previously mentioned, the beauty of the room's visual is easy on the eyes and will seem a bit more varied knowing that multiple positions take place in different sections of the room, like her chair or bed, for example.
You cannot move around in the room or interact with anything so it's more of a visual interactive experience, but still is worth the buy if you like VR hentai games, or if you are a cum lover.
Needless to say, if you like what Baldhamstergames is doing, make sure to support him/her. Your support helps the developer to make the game better overtime.
Enjoy a juicy time with your custom hentai girl!
article by puss2puss