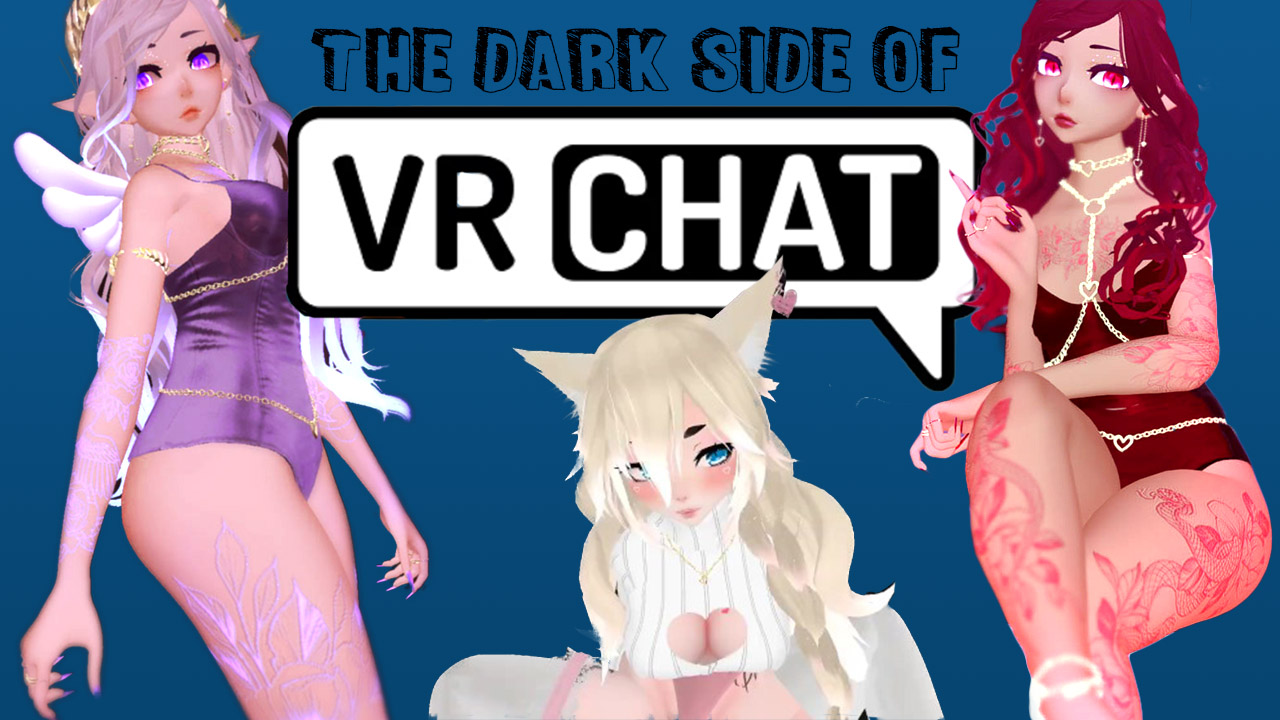 Have you ever been to the dark side of VRChat? It's a magical place where VR gamers from all walks of life act out their most depraved sexual fantasies. Sounds cool right? Despite its growing popularity, it's still a mostly underground phenomenon that only a select few know how to access. This guide aims to break down the barriers to virtual debauchery so you can be a hopeless VR degen like me.
VRChat Porn Community
Like any underground community, the dark side of VRChat has its own special jargon and acronyms. The first and most important is ERP. ERP stands for erotic role play and is the main way that VRChat players refer to adult activities. ERP didn't originate with VRChat but VRChat is the game that took the term mainstream. VSF is another popular term that that stands for virtual sex fantasy and is used to refer to VRChat porn videos.
NSFW Avatars in VRChat

The first thing you'll need if you want to have sex in VRChat is an NSFW avatar. There are a few different ways to get this. The first is to find an avatar world that offers sexy VRChat hentai characters. This is by far the easiest method but the avatars you'll find are PG13 at best and the good ones tend to get removed quickly. Your second option is to buy a sexy avatar from an artist. There's a surprisingly big market for NSFW avatars and you can find a good model for relatively cheap. Some of the best places to start your shopping are
Buying the avatar is just the beginning. You're also gonna need to import the model into the game. This process can be somewhat technical but, fortunately, there are some solid tutorials that walk you through the process. Two good places to start are
Your third option is to make your avatar yourself. This method is not for everyone but it's definitely the most fulfilling way to experience ERP in VRChat. There's nothing like building your dream avatar from scratch and then having other gamers cum to the site of it. If you want to learn more about building your own avatar you can start with VRChat's own tutorials here.
How to Have VRChat Sex

Once you have your avatar, you're going to want to show it off. Hopping into the Great Pug with your half-naked avatar is a fun way to get noticed but the novelty wears off quickly. Those looking for something more intimate need a different approach. There are three main ways to find a lover in VRChat. The first is to find an ERP world. These worlds are technically against VRChat terms of service so they're not going to be highly advertised but they can be found with a little patience. Some of the most popular adult-themed worlds are:
FBT Heaven
Just B Club
Void Club
Club Rapture
Hollow World
The second method is to join Discord groups that specialize in adult VRChat activities. The communities on Discord are usually friendly and always looking for new members. Three of the most popular VRChat sex Discord groups are:
The Eden Apis (includes an age verification system) Slogan: "Everyone has a sexual side. It's up to us to recognize and be comfortable with it!"
These are the three most popular but there are literally dozens of active Discords that specialize in VRChat hookups. A full list can be found on Disboard here.
Adult VTubers
The third method is to support a virtual cam girl. If you're someone who appreciates a professional touch, you'll be glad to know there are a growing number of e-girls with VR headsets and a gaming PC looking to sell their sex appeal. Search for a VRChat thot who has full-body tracking if you want to really get the most bang for your buck. Sites like OnlyFans, Epal.gg, and even Twitter are a good place to start. Some of the most famous adult VTubers are:
You don't need body trackers yourself to enjoy the experience, but it doesn't hurt. For those looking to up their game, full-body trackers can be bought used on eBay. The most popular are from HTC (you'll need SteamVR lighthouse tracking setup). Here are some listings on eBay to give you an idea of the cost.
VRChat ERP Porn

Once you've dialed in your VR setup and locked in a virtual partner, you're ready to start having sex in VRChat. The possibilities are virtually endless, but if you're short on roleplay ideas you can always check out other roleplayers for inspiration.  There's a surprisingly big community of VRChat pornstars who share their VR hookups on tube sites and Reddit. These videos are not only sexy to watch, they also show you how to do it right. Some of the most popular videos can be found via the links below.
The VRChat Community Rocks
VRChat is by far the best social app in VR right now. The game has more depth than AltspaceVR, RecRoom, and Facebook Horizon combined. Whether you're a VRChat noob watching Roflgator's Twitch Streams or an ERP veteran making anthro avatars from scratch – There's no denying that VRChat is the closest thing we have to a VR Oasis at the moment and ERP is a big reason for that.