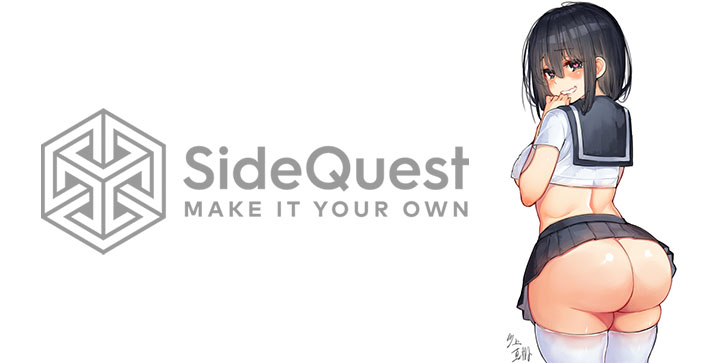 SideQuest used to allow VR sex games on their platform. Unfortunately, this is no longer the case. Gamers can still use SideQuest to install VR porn games, but they can no longer get the games in the official SideQuest store.
Where to Get VR Porn Games for the Quest
There are really only four places left where you can buy VR porn games for the Oculus Quest. The best place is LewdVRGames which has more Oculus Quest porn games than any other site.
The second best place is Patreon since it's one of the last major platforms that hasn't outright banned adult content. Unfortunately, the only way to get VR porn games on Patreon is to sign up for a bunch of monthly subscriptions.
The third best place to get VR porn games is Itch.io. Itch.io has a decent selection of VR sex games if you can find them, the downside is this requires sifting through tons of poorly organized, off-topic content.
The fourth best place is DLSite. DLSite is a Japanese site with a bunch of hentai games. A small portion of the games are VR compatible and an even smaller portion are Quest compatible but there's no better place for obscure hentai stuff.
The Ulimate Quest Porn Game Guide
I keep a running list of every VR porn game that's ever been made for the Oculus Quest. This list is updated every month and is the most comprehensive anywhere online. If you don't feel like reading through a guide, you can go directly to the adult VR game store and filter by Oculus Quest.
Why SideQuest Removed Adult Content
The exact reason the SideQuest dev decided to remove adult content from his store is unknown, but my guess is that it has something to do with payment processing. It was right around the time that the SideQuest store started serving paid content and ads that the porn content was removed. As the most popular source for indie Quest games, it was a huge blow to the adult dev community when SideQuest made this decision. But as much as it sucked, it was somewhat understandable.
The truth is that It's incredibly difficult to secure reliable payment processors for a site that serves adult content. I learned this the hard way myself. Even if you can find a decent payment processor it's going to cost you. Just to have the opportunity to accept credit card payments, you need to shell out $1,000 a year and 15% of all revenue. Add to this the extra pressure to censor any porn that's not pure vanilla and, for most businesses, the trade-off just isn't worth it.
Even Pornhub lost it's ability to process credit cards recently and they're owned by MindGeek (the single biggest porn company in the world). If juggernauts like Pornhub are falling, how can a little indie company like SideQuest hope to make it work?
VR Porn Game Development
Despite the challenges, VR porn game developers are still pushing the medium forward. Without the contributions of artists like MeshedVR and AntiZero, the VR landscape as a whole would be much less developed. That's why LewdVRGames exists as a censorship resistant store that developers can use to promote their work without being under the constant threat of a ban hammer.