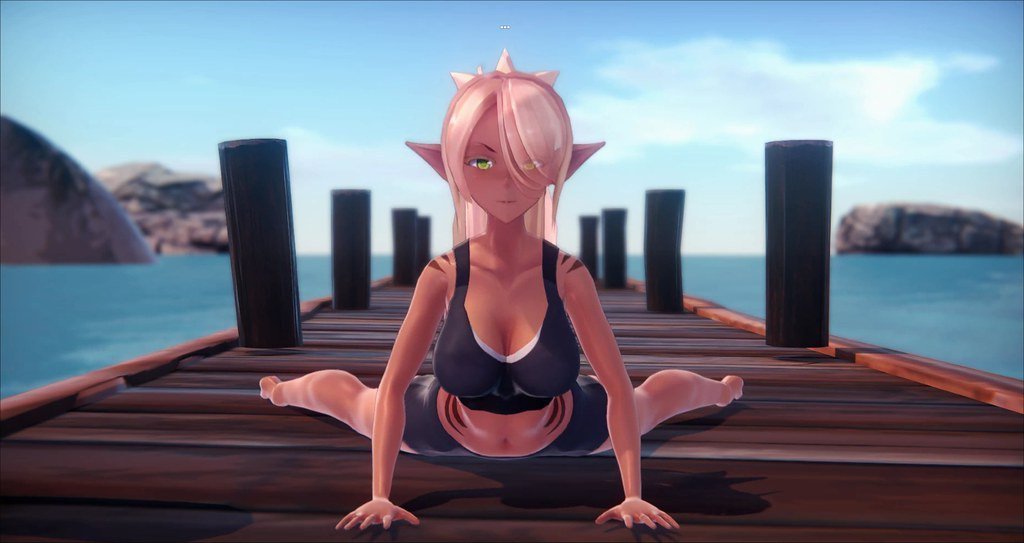 With 12,000 Patreons, Monster Girl Island is one of the most funded VR hentai games, and it's no surprise why. With its incredible graphics, characters, and story, this game takes visual novels to the next level. The VR porn game aspects are just as great, if not better, as all the lewd scenes are compatible!
This lewd visual novel is being developed by Redamz, who is constantly posting screenshots, and polls on his Patreon. It's clear that a lot of passion has gone into this project, and it hasn't gone unnoticed.
Story
You're greeted by a robot named Ophelia, with no recollection of how you got there. She seems to know your name but doesn't let on to how. While asking questions, a snake-girl threatens you, forcing Ophelia to fight her for your sake. However, she knocks you out in the process and you wake up in a new location.
Two more monster girls greet you, confused at how a human could have gotten there. But with some begging from Ara, the cat-girl, they let you stay, and this is where the game starts.
Players will try and discover how they ended up on this mysterious island. In the process, they'll also interact and develop relationships with the monster girls. These relationships will flourish in both romantic and lewd scenes. These lewd scenes, however, is where the VR sex game aspect really begins to shine.
The story is engaging enough so that the sexual aspects of Monster Girl Island feel like an added bonus. Each girl's personality is reflected in her dialogue options, some of them leading you to the next goal, and others taking you to their bedrooms. These small interactions help the island feel alive, and some of the dialogues have consequences, which makes you feel like your interactions matter.
One small quip with the story and lewd sequences is the dialogue can feel awkward. This isn't game-ruining, but it may take you out of the moment. You may even be confused about what your current objective is at times. But, compared to the rest of the game, it's a minor detail.
Gameplay
For those who may be turned off by the slow pace of visual novel games, fret not! You thankfully won't be clicking through lengthy dialogue options. Instead, you'll be moving the mouse and observing situations in real-time, as the dialogue appears above the girl's heads.
Besides the interactions with the girls, you'll have quests to complete, which are entertaining in their own right. So far, nothing's felt like a chore, but maybe it's because the girls will offer the player incentives for completing them.
These rewards can vary, from simple thank you's or food to all-out lewd-cutscenes. Because they're color-coded, you'll know which options lead to what. No more guessing if an interaction will turn out the way you want. It's a small detail but appreciated nonetheless.
Graphics
The island itself is massive, with different buildings and rolling hills to discover. You never feel bored with your options. Going between different sides of the island can sometimes feel like a trek, but those options can help a 5-minute journey feel like it has actual substance.
And of course, the girls look fantastic. Each of the different monster girls is unique in their designs, and it's instantly clear what each girl is supposed to be. From a cat-girl to a shark-mermaid, Redamz seemed to really take care in making sure each girl felt unique.
Sound Design
One of the biggest complaints is the lack of voice acting. Players might struggle to feel fully immersed in the scenes. The girls don't audibly react to the things you do, and it's a big letdown overall.
So while the scenes are great visually they really feel like they're lacking something essential, which is unfortunate for a game of this scale. Hopefully, Redamz will add it to this lewd VR game soon, as this could be a complete turnoff for some players.
VR Mode
So while the overall game lacks any kind of VR support, the sex scenes are thankfully in VR – which is fantastic. The scenes are set up from the player's perspective, and it really feels like you're experiencing the scene with your own two eyes, which is a feature not common in many of these games, but one that almost feels necessary in this adult VR game.
All of this also helps with immersion, and one of the greatest features is that you can directly reach out and touch the girls! You'll often start a scene interacting with different parts of their bodies, and because your controllers act as hands, you can do whatever you please!
This VR mode is a fantastic addition and one that really makes you feel you're interacting with a living monster-girl, making the sex scenes that much better.
Overall
The game has received widespread recognition on steam and with 12,000 people supporting the development of the project, it's clear there's a large fanbase.
The graphics are fantastic, and they designed each girl with obvious care and consideration. Their personalities are unique and engaging, although sometimes the interactions feel awkward and pull you out of the scene.
Besides that, this game will amaze once they include voice-acting, as it's a critical element that's lacking, and may make the game unplayable for some. But overall, Monster Girl Island is worth the time to check out, as the girls themselves sell the game.
Check out the free VR demo here!